---
People learn English for many reasons but the most common ones are work and travel. If your plan is to brush up on your holiday English before that trip abroad, we have something that will definitely be of interest to you. Our latest e-book English for Travel covers most aspects of the topic of travel and will get you prepared for any scenario you might encounter before you set off and while en route.
What's in it? Twenty-two theme-based, holiday and travel-related units filled with real-life language and engaging, practical activities. Learn about types of holidays, accommodation, transport, attractions, dining, airports, problems people might experience on holiday and more.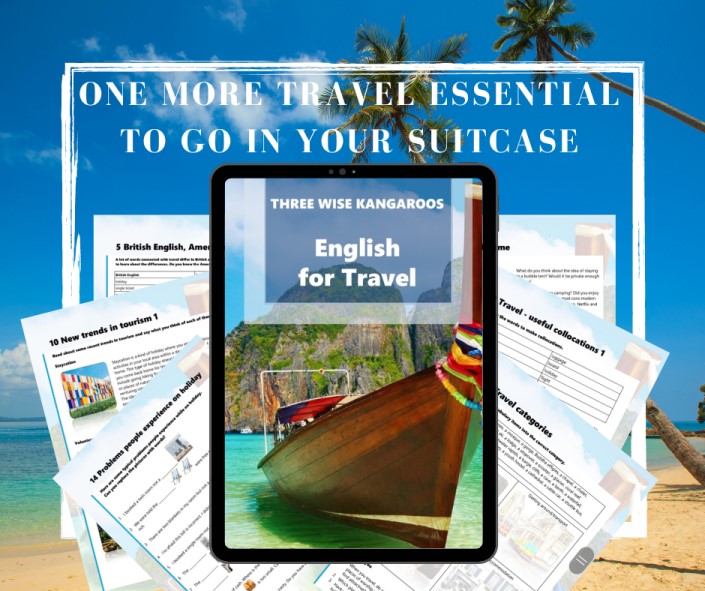 There is a variety of activities to choose from such as vocabulary races, quizzes, matching and gap-fill activities, speaking tasks based on pictures, short reading passages as well as creative writing tasks.
You can learn and revise useful collocations and practical phrases to use while en route, together with idioms, confusables and differences between British and American English. You will also find out about the latest trends in tourism and be able to test your knowledge of English-speaking countries. To top it all off, there is a bunch of challenges too to help you recycle and reinforce the newly-learnt material. And it's all there in one compact little e-book that is fun to work with, versatile, up-to-date and practical to the max.
Why buy English for Travel?
it features over 200 travel-related vocabulary items, collocations, idioms, fixed expressions, confusables and more and equips students with useful language they can use in real life
there is a ton of communicative practice with over 80 travel-related questions and discussion topics
it offers a wide variety of vocabulary, speaking, writing and reading exercises to choose from together with tests and quizzes
it is suitable for both teenage and adult learners and can serve as a perfect workbook for self-study as well as a great teaching resource
it comes in a user-friendly format and is easy to work with
So grab your copy now and bon voyage!