---
Wherever you are based and whoever your students are, the chances are that at this time of the year the topic of Christmas will be brought up at some stage. We all have our favourite Chrissy (excuse my Aussie slang) activities, and here are my top five that you might want to try out. They are different from the standard match-the-words-and-pictures, or listen-to-the-carol-and-fill-in-the-gaps types of tasks. Nevertheless, I am confident they will work in your classroom, provided your students are level B1 or higher, as they have all been tested and loved in various teaching set-ups.
Here they are:
My top seven, innovative, fun, engaging and meaningful Christmas activities worth trying.
1. Shopping for a perfect 'experience gift' roleplay
Christmas is obviously not all about presents, yet it is inextricably bound with gift giving. Experience gifts seem to be very popular these days, and why not use this concept as an idea for a fun, language-packed roleplay? Simply divide your students up into two groups- sellers and gift buyers. The gift buyers must decide who they are going to buy a gift for (mum, partner, friend, sister, etc.) and must talk to all the sellers before choosing one, perfect experience gift. The sellers must come up with the most effective sales pitch to promote their products. Here are some ideas for 'experience gifts':
| | |
| --- | --- |
| A day at a shooting range | A parachute jump |
| A scuba-diving course | A pottery workshop at an arts and crafts centre |
| Gokarting | A night at an observatory |
| Wine and cheese tasting | A sushi lunch |
| A VR trip to Mars | A torchlight tour of a prison |
| A paintballing session | A snail facial beauty treatment |
2. Christmas song gap-fill with a twist
I'm sure you've all done Christmas songs and carol gap-fill activities, and, I grant you, they are a great listening/karaoke practice. There is a way to take this activity to a whole new level and make it super funny for all the people involved. Simply take an iconic Christmas tune, such as Rudolf the Red-Nosed Reindeer or On the First Day of Christmas, and remove some key words from the lyrics. Don't spoil the surprise and don't tell your students what you're doing. Just ask them to give you some random words, while giving them clues, such as give me an animal or give me a body part. Fill in the lyrics with the words elicited from the students, then project the new lyrics to the class and get them to sing the song! Another idea is to ask your students to write lyrics from scratch and present their songs in a classroom Christmas show contest.
Rudolph the Red-Nosed ___________ (animal)
Had a very shiny ____________ (body part)
And if you ever __________ (past form of a verb) it
You would even say it __________ (third person singular verb)
All of the other _______ (animal, plural)
Used to laugh and call him ________ (noun)
They never let poor Rudolph
Join in any _________ games (noun or adjective)
Just continue removing the key words and replacing them with your students ideas.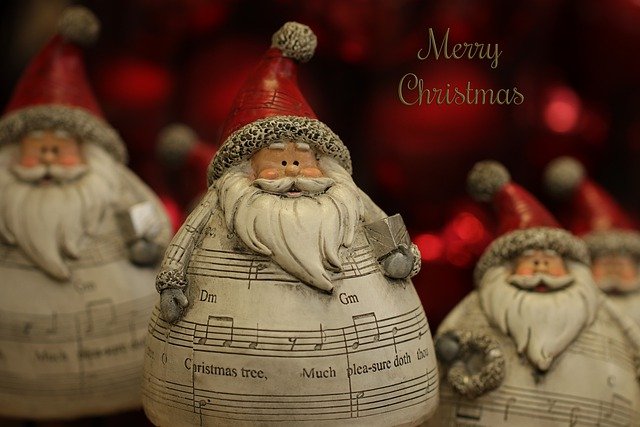 3. Let's talk about Christmas, but…
Here's an idea for a Chrissy-themed communicative activity that can be made as challenging or as language-packed as you want it to be. Cut up the topic cards, and the target vocabulary/structure cards and put them in two piles. I've provided some as examples, but feel free to replace them with whatever content would suit your needs (vocab from previous lessons, collocations, gerund vs infinitive verbs, etc.) The student must pick one card from each pile, then talk for two minutes on the topic given while trying to incorporate the word picked at the same time, e.g talk for two minutes about shopping centres at Christmas using the word grumpy.
Possible topics for two-minute speeches:
| | | |
| --- | --- | --- |
| Shopping centres at Christmas | Christmas family reunions | Christmas during the pandemic |
| Love Actually or Home Alone | What you were told about Santa Clause when you were a child | Best Christmas present ever |
| Spending Xmas on an exotic island away from all the jingle bells | Christmas customs and traditions from your country | Christmas food |
| Decorating the Christmas tree | Christmas songs on the radio | TV during Christmas |
| Post-Christmas sales | Preparing the house for Christmas | A perfect Christmas Day |
Suggested target vocab to be used (depending on what you've been teaching prior to Chritsmas, use words that you want to revise/that your students will be familiar with):
| | | |
| --- | --- | --- |
| chuffed | exuberant | festive |
| gutted | grumpy | appreciative |
| delighted | hopeful | anxious |
| devastated | distressed | vivacious |
| relieved | joyful | nonplussed |
4. Letters of gratitude
We've all written letters to Santa asking him for this or that, but how about writing a letter to someone telling them what a great difference they've made in your life and how grateful you are to have them as a classmate/teacher/friend. Gratitude is the best gift and telling someone how much you appreciate them in your life means more than a hundred presents. Why not encourage your students to write letters of gratitude in English and teach them this wonderful habit of noticing the good things that happen to us and the lovely people that make a difference in our lives?
Dear Three Wise Kangaroos Reader,
Thank you for your support. By visiting my website regularly and spreading the word to others, you are doing an incredible job of keeping me motivated to create new resources. Wishing you many fun English lessons and a very merry Christmas!
With lots of love,
Gaby
5. Eco Santa
Here's one way to put to the test your students' creativity and ability to think on their feet. Simply fill up a big sack with random objects from your house, like kitchen utensils, an artificial plant, a guide book for an exotic place, a keyring, a Minion, a rubber duck… Explain to your students that Santa's decided not to give any brand new presents this Christmas (for the sake of the environment), but instead offer second-hand gifts, which he hopes will be just as much appreciated. Randomly present each student with an item from the sack and ask them to say why they think it is a perfect present for them (even if it's not, that's the trick 😉 )
Oh, it's a chopping board. I love its bright green colour! My old one is on its last legs so this one will be a perfect replacement, and it will also go well with my kitchen tiles. Thank you so much.
6. Become Santa this Christmas
Christmas, apart from being a time of indulgence and an occasion to pamper yourself, is also a great opportunity for showing generosity and being kind to others. Here's an idea for a meaningful project to do in class and also one that your students will find extremely rewarding. Start off by having a class debate and eliciting ideas about ways of helping those in need. Brainstorm ideas about helping locally vs helping globally. Divide the students into groups and assign the task of researching organisations and institutions (either global or local, depending on the group's choice) that need support and what support, within the students' scope, they require. Give the students clues if necessary, such as homeless people's shelters, animal shelters, care homes, community centres, animal rescue organisations, etc. Get the students to report back to you the findings of their research together with ideas about what help can be offered. Take a vote and decide on the initiative you're going to support. Run a debate about possible ways of offering help, such as setting up a fund-raiser event on a social media platform vs organizing a cake sale/a concert at the school, donating some items, like blankets, to an animal shelter vs volunteering at the centre for a day.
Note that even though your students will most probably be doing the research in their native language, they will still use English for the debate, the brainstorming session, and exchanging ideas with their peers so this activity still has a great language potential, not to mention the potential to give someone an awesome Christmas.
7. Christmas-themed mini saga competition
For those of you unfamiliar with the term 'mini saga', it is a piece of writing that tells a story in exactly 50 words, not 49 and not 51. It needs to read like a story and ideally, like every story, should have a twist at the end. I love organizing mini saga competitions in class, as I really enjoy reading them. Why not have a Christmas-themed mini saga contest in your classroom and let your students' imagination run wild? Remember to offer a prize, like a candy cane, to the most ingenious writer 😉
Wishing you many exciting Christmas-themed lessons and, of course, a very merry Christmas!