---
If you, like myself, are used to a white Christmas, a lot of warm, hearty, stewy food, mulled wine by the fireplace and Santa Claus wearing boots, Christmas in Australia might come as a shock to you.
A lot of the differences between how Noel is celebrated Down Under and in the Northern Hemisphere simply stem from the fact that December is one of the hottest months here with temperatures of high 30s and low 40s being the norm. A lot of the practices accommodate the dramatically different weather conditions. Having said that, though, I also believe that a lot of the traditions here reflect the Aussie character as a nation- so-laid-back-almost-horizontal, sociable, fun-loving, forever-happy, vitamin D-stoned chaps for whom any occasion, Christmas included, is a great opportunity to catch up with family and friends, have a few coldies by the barbie, talk about cricket and affirm the fact that life is great even if you feel the heat is starting to coagulate the protein in your body.
Obviously there are aspects of Chrissy, as Xmas is called here, that are shared universally across the globe such as the anticipation and excitement, decorating the Christmas tree, the shopping frenzy, excessive eating, gift giving and the coming together to celebrate everyone's favourite time of the year. Australia is no different in that respect. There are, however, points of difference worth mentioning. Read on. In Australia the biggest festivities happen on Christmas Day, starting from a lavish breakfast, to opening the Christmas presents (sometimes in the company of Santa wearing a pair of sunnies, a singlet and thongs!) to drinking champagne (still in the morning!) to an even more lavish lunch and lots of family fun and giggles followed by more socializing, more food and drinks and happy times in the afternoon/evening. Life doesn't get better than that.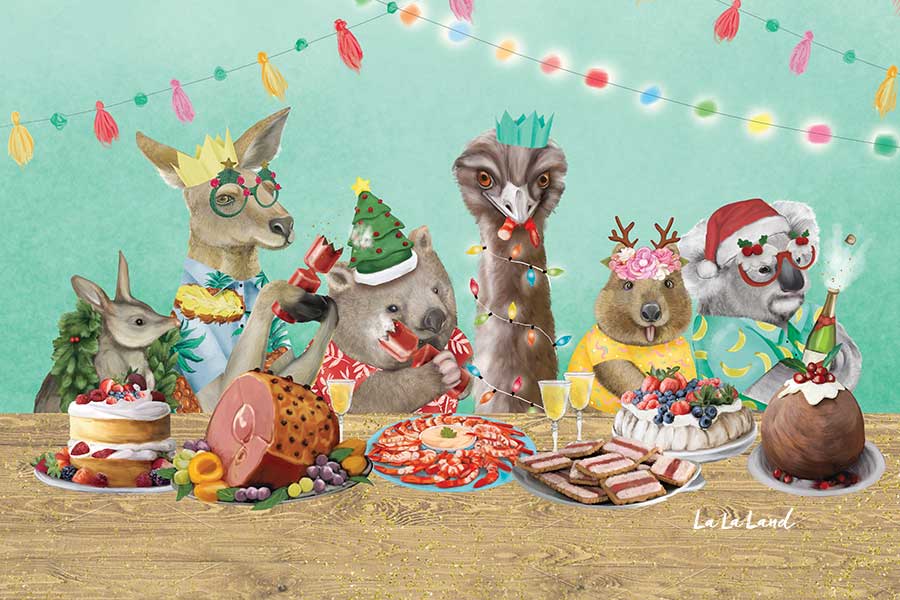 This beautiful image depicts very well a typical Christmas scene from a typical Aussie home. People, or koalas, pulling Christmas crackers, wearing Christmas hats and stuffing their faces with staples of Aussie Christmas cuisine- roast ham (served cold), some seafood, a pavlova and Christmas pudding. Remember, it's scorching hot so any food that will help cool you down is prefered over hot stuff. Some other typical dishes are roast turkey (served cold) and salad (served cold) and a variety of beverages (served even colder). If the Aussies have mastered one thing to perfection, it is the ability to drink liquids at temperatures bordering freezing point without any medical consequences – a skill I truly admire and am still trying to learn.
One of the things I really enjoy doing just before Christmas is following a Christmas lights trail. Let me explain. If you're one of those people who can't get enough thrill from just decorating your own Christmas tree, you can take the liberty of decorating your whole house, and the front yard for that matter, with lights, baubles and anything in between that shines, sparkles, illuminates, produces fake snow, plays Christmas carols, displays Chrissy images, etc. The sky's the limit. Some people take this affair quite seriously and the effects are absolutely stunning when these Christmas-themed homes come to life after dusk and become jaw-dropping phenomena. There's even an official Christmas lights trail, which you can look up and follow, which is exactly what we enjoy doing. The kids love it.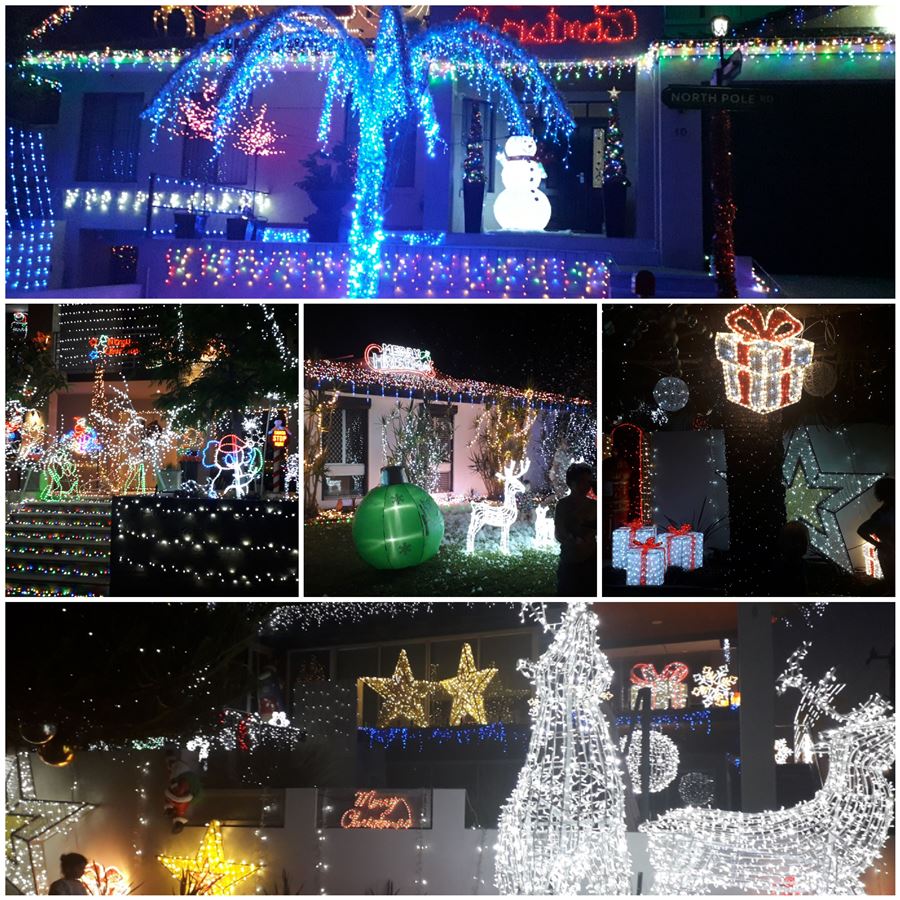 Another common practice preceding Christmas is Carols by Candlelight. A Christmas Carols by Candlelight is basically a free concert held at public places such as sports grounds or parks. All you need is a picnic blanket and a few nibblies (or a few nibblies and a bottle of wine) and a mood for singing. There are choirs and bands performing various Chrissy tunes, a strong community spirit, an atmosphere of joy and togetherness, food trucks, kids entertainment, and generally lots of good vibes. Now that I think of it, Aussies are a nation of social butterflies embracing any opportunity to do things together with other social butterflies. Father Christmas gets people in Australia to behave by saying, if you're not good, you'll spend next Christmas alone, in isolation- the worst possible punishment inflicted upon an Australian.
It's the 23rd of Dec as I'm writing this post, it's 41 degrees outside, my Christmas ham is chilling in the fridge next to my champagne and the melting koala on top of my Christmas tree reminds me to make some extra ice for the days to come. Merry Christmas to you all and may 2021 be a smashing year!
---
The images "Mr & Mrs Claus" and "Festive Feast" courtesy of La La Land and the artists: Lilly Perrott and Murilo Manzini.