---
If you are a teacher of English, you are bound to have found yourself in one of the following situations in your career:
lesson planning seems to take you yonks, you need some no-prep activities that will help you cut the planning stage short
you've been asked last minute to fill in for a colleague who's sick and you need a foolproof lesson plan fast
you've been teaching the same group/student for a while and you feel that you need to spice up your classes a bit, something that will be a breath of fresh air and add novelty value to your classes
you want to get your students to speak more in class but lack ideas for things to discuss
you're preparing your students for an exam and you want them to continue learning new vocabulary and idioms but you also need a break from the countless photocopies you've been going through
you've spent ages preparing this great lesson plan but now you can't execute it because the photocopying machine is out of order and you need an alternative plan ASAP
How many of the situations were you able to relate to? I bet more than one 🙂
Let's face it. As teachers, we want the best learning experience for our students. We want to help them make ultimate progress but we also want the learning process to be enjoyable and rewarding so they don't get put off learning altogether. We also spend ages planning our perfect lessons and it can be exhausting. And, as the world is not perfect, hiccups will happen and we often need a plan B. It's a good idea to always have that one resource you can rely on, something super fun and engaging that will encourage a lot of interaction, something universal, something that will work in most circumstances, something you can apply asap– a handy first aid kit you can just pull out on the spot, take what you need from it and let it work its magic.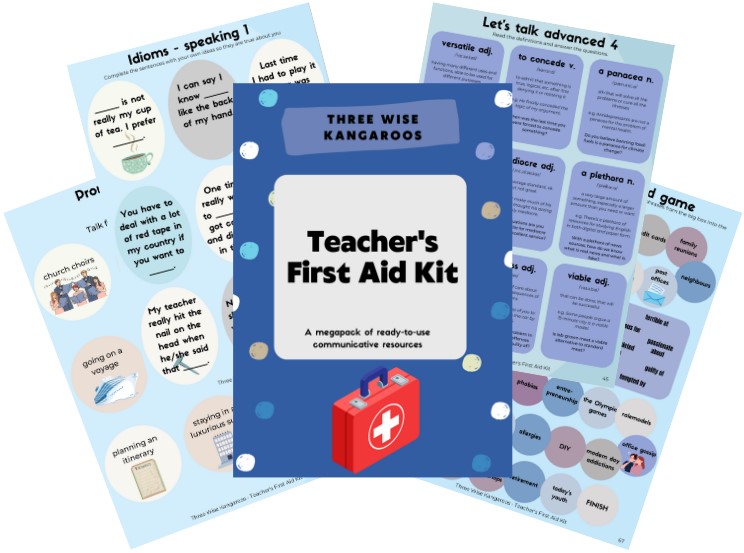 Introducing – Teacher's First Aid Kit – a practical resource pack designed to help teachers deliver top notch lessons without a sweat. It is:
versatile – includes a variety of activities to choose from together with teacher notes to help you make the best use of them
universal – can be used with students of different levels from B1 to C2
reusable – can be printed out, laminated and used time and time again
innovative and engaging packed with appealing content and topics that are bound to spark off a good interaction every time
100% focused on communication
100% no-prep
perfect for warmers, fillers and adding a wow factor to your classes
What's in it?
45 debate cards
45 pronunciation cards
20 theme-based conversation worksheets, altogether 180 topics to discuss
45 vocabulary cards with 450 vocabulary items in total
45 advanced speaking cards
45 idiom cards with three types of activities
5 board games with over 150 topics for discussion
7 pages of teacher notes with plenty of tips and creative classroom ideas
In total that's over 500 topics and discussion points and over 500 vocabulary items!
In other words, a ton of content to keep your students busy for a while and give you a break from lesson planning.
You can click here to access the table of contents together with some sample pages:
Buy it now while it's on special, only $21 AUD until 2023-05-21.
---