---
If I turn on the TV and tune into the news in English, they are talking of ministers stepping down, new medicines being rolled out and nurses threatening to walk out. At work I am asked to fill in for a colleague. In a restaurant they'll ask me if the food is to dine in or take away. At a hotel I have the option of checking out late. In everyday language and on a daily basis I hear and use phrases like 'What did you get up to at the weekend?', 'What are you after?', 'How are you getting on?', 'Speak up' , 'Calm down', 'Hold on'. These are just some examples of the many phrasal verbs that together with standard verbs make up the English language.
The truth is that phrasal verbs are part and parcel of English, an essential component of oral and written communication. Very often what sets native speakers apart from learners of English is that the former use phrasal verbs profusely and the latter tend to avoid them. And there is a good reason for it. Students see phrasal verbs as confusing and get easily put off learning them altogether.
Most people tend to make one big mistake trying to wrap their head around phrasal verbs, namely they try to learn them in the form of shopping lists grouped by verbs: get on, get through, get in, get over, get around, get into, get out, get back, etc. And if all the particles (prepositions and adverbs that together with the verb make up a phrasal verb) weren't bad enough, one phrasal verb can have many meanings. Compare to pick up your kids from school, to pick up an order, to pick up a foreign language, to pick up a stranger at the bar and to pick up from where you left off. Shopping lists are really not the best approach.
What if I told you there was a way to learn phrasal verbs easily, in a well-organised manner and in digestible chunks? A way that will help you understand them forever and use them naturally? What if learning phrasal verbs could be made enjoyable and effective at the same time?
Introducing Communicative Phrasal Verbs, your go-to for fun and effective practice on phrasal verbs! 200 most commonly used phrasal verbs in English presented to you in a simple, three-step formula, neatly organised into theme-based units with plenty of examples and practice.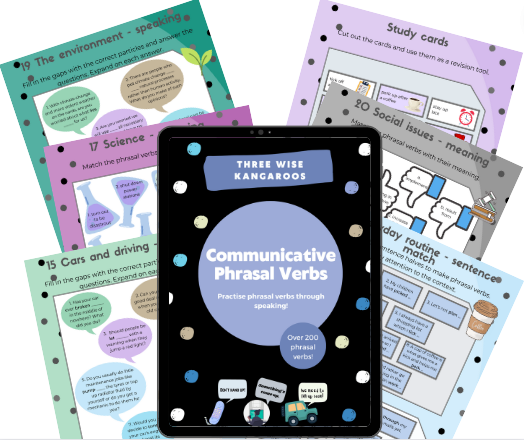 Step one: study the examples and notice the context
In order to understand phrasal verbs and use them correctly yourself, you must understand in what context they are used and what nouns collocate with them. Sentence match will provide just that- examples of scenarios and situations particular phrasal verbs can be used in. Every unit starts off with 10 split sentences all centred around one theme and each containing one phrasal verb used in a natural collocation to be put together by analysing the context the verbs are used in. The chances are you will have heard many of these phrasal verbs before. You just didn't quite understand how they worked. By analysing the examples you'll be able to identify the type of verb (transitive, intransitive, separable, inseparable), understand how it fits into the conversation and what it means in context.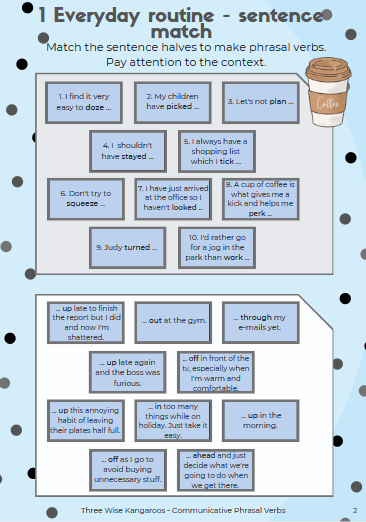 Step two: work out the meaning
Now that you've done the matching, you can check your understanding of the phrasal verbs in question. The second page of every unit presents the same verbs, all in natural collocations with a noun or an adverb, for you to match with the correct meaning. This is to test your understanding of the verbs and help you memorise their correct use. Learning phrasal verbs as collocations is a great way to remember how to use them properly.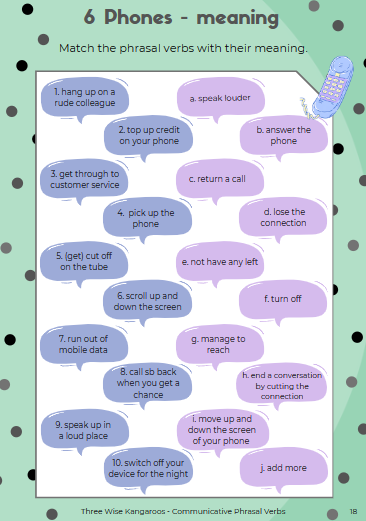 Step three: practise through speaking
In order to learn something well and for good, you need a decent amount of practice. So after controlled practice in the form of matching comes the time for free practice in the form of speaking. But this part is two in one! You have to fill in the gaps with the correct particles first before answering the questions. It is a great way of testing yourself as well as incorporating the verbs into conversation. If you don't have a speaking partner, say the answers out loud or simply write them down making sure you expand on each question, write full sentences and include a particular phrasal verb every time. There is no point learning things if they have no application in real life. This activity will show you how useful and common phrasal verbs are in everyday conversations and how to use them in questions and practise your responses.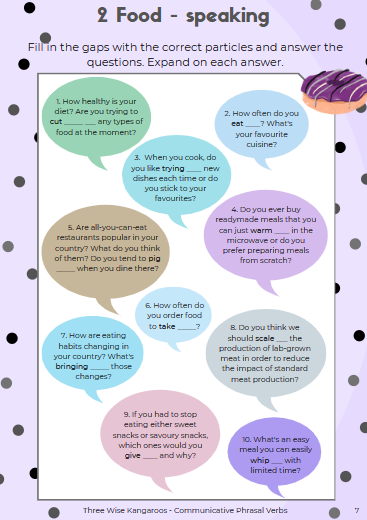 Another factor that makes this exercise very effective is making it personal and relating it to yourself. It is a fact that we remember things better when we forge a personal connection to them. And as all units are organised according to themes, this will help you create mental maps for them and organise them neatly in your head. Having a common theme and a picture to go with a set of verbs makes it easier for us to make associations as our brains need connections to comprehend and absorb information properly.
But that's not all!
The e-book comes with over 10 pages of bonus material! The first part is a set of mini dialogues with matching activities which illustrate how phrasal verbs are an intrinsic part of everyday conversations and social interactions and how to use them correctly. You can study the examples, do the exercises, note down all the useful phrases and try to incorporate them yourself.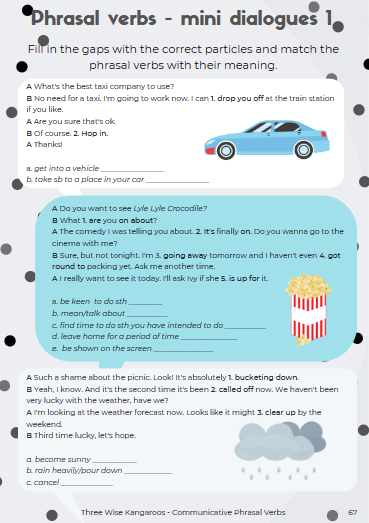 The second part of the bonus material are the study cards– mini flashcards, each with a phrasal verb collocation to help you revise, reinforce and remember all the phrasal verbs from the 20 units. Cut them out, shuffle them around, keep them handy and refer back to them whenever you need to. They are visually appealing, each containing an image to help you remember them better, and present phrasal verbs in collocations which will make learning more effective. This e-book is your chance to learn phrasal verbs once and for all and become a more natural communicator. It is proof that learning phrasal verbs doesn't have to be a daunting task and using them correctly is within your reach.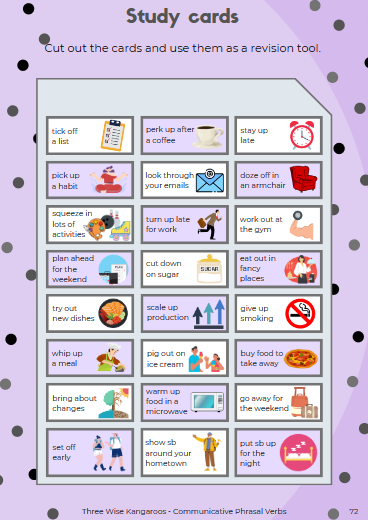 Communicative Phrasal Verbs:
over 200 commonly used phrasal verbs presented in context with matching exercises
divided into 20 theme-based units to foster learning and memorising
filled with clear examples and engaging activities
focused on communication with questions students can relate to, includes 200 discussion questions
comprehensive and varied with content that can easily be applied in everyday conversation to make communication more natural
visually appealing
supplemented with revision sheets, mini dialogues and study cards to maximise practice
suitable for B1, B2 and C1 learners
can be used for self-study as well as a teaching resource
comes in two versions: a colour version for projecting and a black and white version for economic printing
You can buy it now at an introductory price of only $21 (regular price $27).
Hurry, offer ends Sun 29th Jan.
You can also get all our other e-books at reduced prices prices now.
Check them all out here: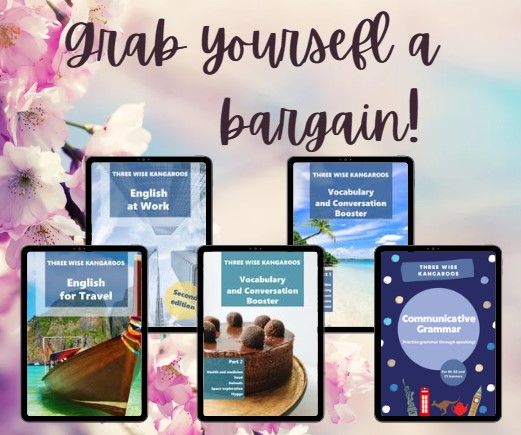 ---